Here's a collection of healthy mains recipes proving that large meals don't have to be bulky and unhealthy.
When we think of main meals we might think of stodgy British style dishes such as roast beef and vegetables, fish and chips etc (you can see more of these traditional english foods here) or perhaps a large steak (preferable with chips).
And when we think of healthy meals we tend to think of soups, salads and other smaller dishes.
So does that mean a main meal can't be healthy? We don't think so – and here is a collection of 20 healthy mains recipes from around the web to prove it.
(Click on the link on each recipe to be taken to the details)
---
1. Cumin Grilled Sea Scallops with Chickpea Salad and Red Pepper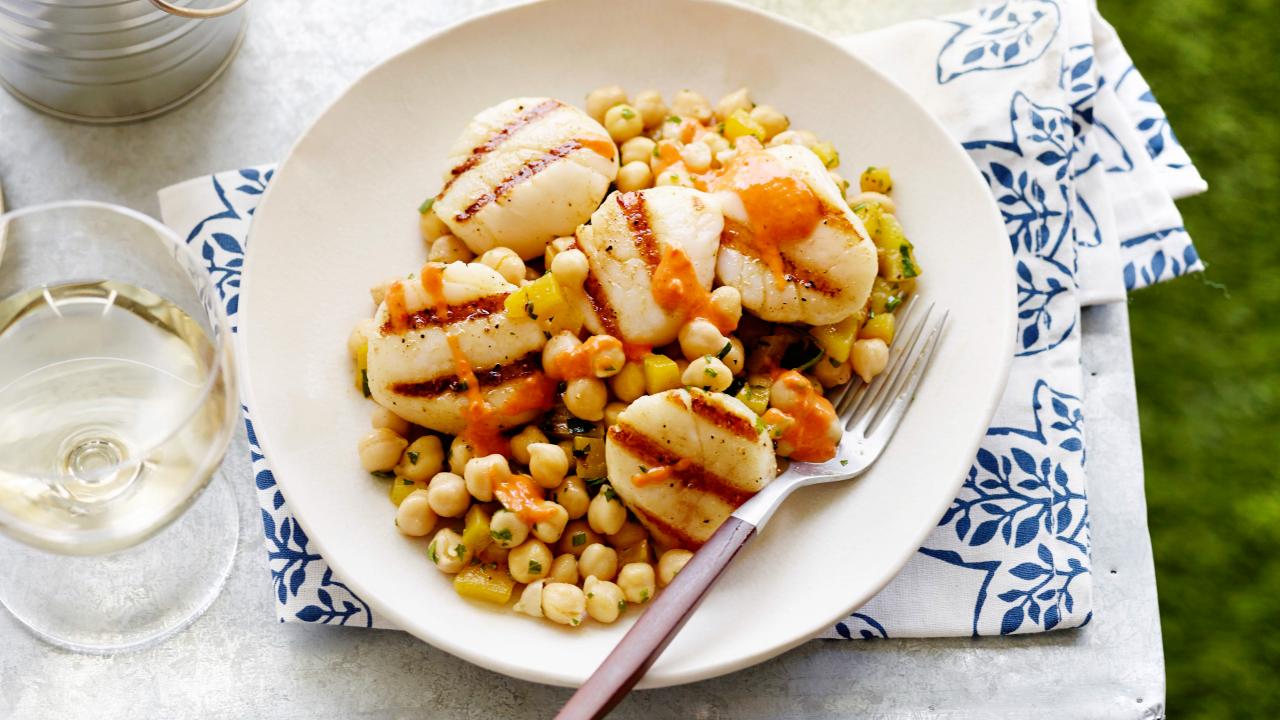 Get this all-star, easy-to-follow Cumin Grilled Sea Scallops with Chickpea Salad and Red Pepper-Tahini Vinaigrette recipe from Bobby Flay.

foodnetwork
---
2. Southern-style pork and beans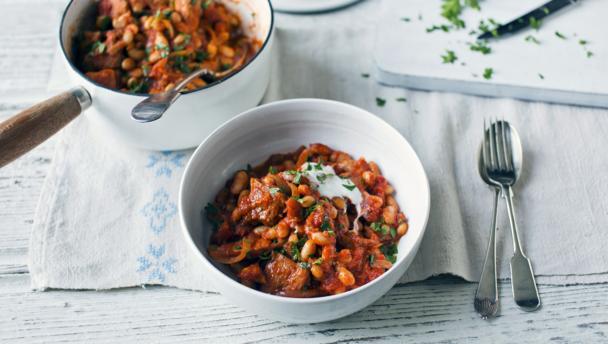 A simple but generous vegetable and pork dish that's rich in fibre and flavour. A perfect healthy mains recipe. We temper the chilli heat with fat-free Greek yogurt.

bbc.co.uk
---
3. Greengrocers' hotpot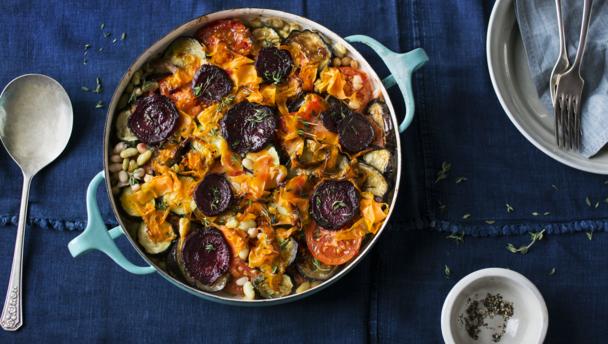 This hearty vegetarian take on the traditional hotpot has a pretty topping that contains plenty of hidden treasures.

Each serving contains 436kcal, 10g protein, 32g carbohydrate (of which 18g sugars), 27g fat (of which 8g saturates), 14 fibre and 0.3g salt.

BBC Food
---
4. Horseradish Beef With Winter Vegetable Salad Recipe
Take your traditional steak to the next level with this horseradish and mustard marinade.

taste.com.au
---
5. Salmon Couscous Salad
This salmon couscous salad recipe features salmon, couscous, and arugula salad layered in a bowl and drizzled with homemade pesto dressing for a unique presentation. This dish is a nod to a dish I tried at a local restaurant.

allrecipes.com
---
6. Weeknight Two-Bean Chili Recipe
This 30-minute weekenight dinner is a vegetarian chili that tastes like it's been slow simmered for hours. The hint of Chinese five-spice[ powder is a nice spice surprise.

foodnetwork.com
---
7. Cajun Pork Stew Recipe
Add some heat to your week with this succulent slow cooked pork served with a flavoursome Southern American spiced rice.

taste.com.au
---
8. Roman-Style Chicken Recipe
Giada De Laurentiis' Roman-Style Chicken, from Everyday Italian on Food Network, is the perfect make-ahead recipe; it tastes even better reheated the next day.

foodnetwork.com
---
9. Lemony Steamed Fish Recipe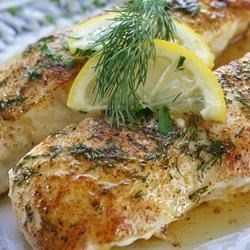 Mild flavored, flaky fish fillets. Any number of different types of fish will work, and you can increase the recipe easily. Try halibut, cod, salmon, red snapper, trout, etc. Serve with a white and wild rice blend.

allrecipes.com
---
10. Healthier Stuffed Peppers Recipe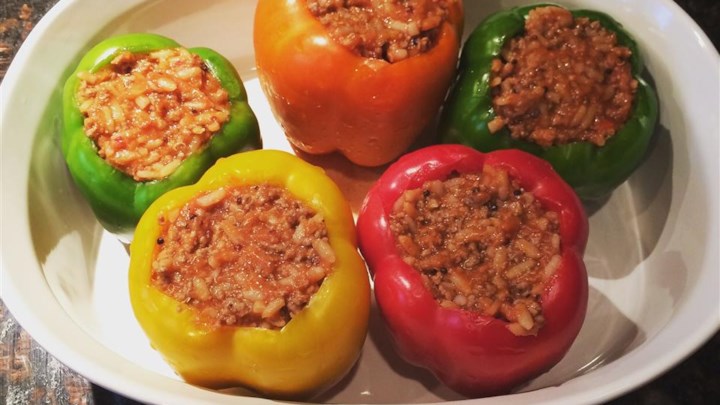 Brown rice, lean ground beef, and fresh bell peppers make this stuffed pepper dish healthier than the original, as well as being colorful and flavorful.

allrecipes.com
---
11. Pollo al Ajillo
This wonderfully aromatic chicken dish is short on prep and big on flavour. It's also a great dish to make ahead the day before and reheat — it's even tastier after the flavours meld. Seared chicken on the bone, slow cooked onions & whole cloves of garlic finished with white wine, rosemary & tender, roasted new potatoes.

wholefoodmarkets
---
12. Harissa Lamb With Spiced Chickpea Salad Recipe
Spice up lean lamb with harissa, then build on the Moroccan flavours with honey-coated chickpeas and carrots.

taste.com.au
---
13. Charred Lemon Chicken Piccata Recipe
Lightly charring the lemon slices intensifies their flavor and creates a gorgeous look for this delicious chicken dinner. Be sure to include any of the sweet, tangy liquid the lemons give off in the bowl; it adds incredible depth to the sauce.

myrecipes.com
---
14. Summer Veggie Grilled Pizza with Whole Grain Crust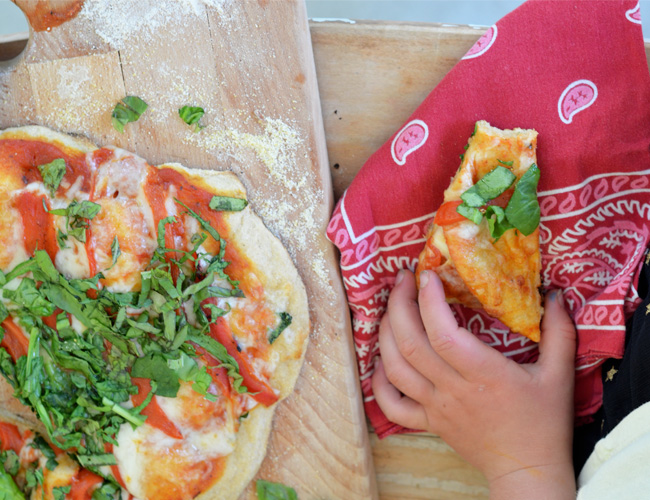 One way to get kids crazy for veggies is to pair them with pizza! My kids have gobbled up spinach, onions, mushrooms, kale, peppers, and even zucchini on pizza! This pizza features a classic marinara sauce, mozzarella cheese, roasted red peppers, spinach, and fresh basil.

superhealthykids.com
---
15. Spinach, Kale + Ricotta Pie
This is a delicious meal for a weekday dinner or as a portable healthy lunch. Preparation is effortless. Serve along side a rocket salad laced with cold pressed olive oil and a little lemon.

thehealthychef.com
---
16. Spinach and Quinoa Salad with Shrimp Recipe
Simple, fresh, and perfectly portioned for two, this main dish salad is great for a quiet weeknight.

myrecipes.com
---
17. Omelette pancakes with tomato & pepper sauce
Healthy, low-calorie and gluten-free – these herby egg 'pancakes' will become your go-to favourite for a quick midweek meal.

bbcgoodfood.com
---
18. Lamb Chops with Mashed Peas & Mint Recipe
Peas and lamb are a natural pairing. Here pan-roasted lamb chops are served with mashed peas seasoned with mint. Serve with bulgur tossed with chopped scallion greens, a drizzle of olive oil and a splash of lemon juice.

eatingwell.com
---
19. Smoked salmon, leek and spinach pasta bake
Protein, vegetables and spinach packed with iron, make this past bake healthier than most…

healthyfoodguide.com.au
---
20. Gigantes With Tomatoes
This recipe comes from Epirus in northern Greece, where they grow plenty of giant butter beans which they cook with tomatoes and wild greens.

bbc.co.uk